About Us
There will always be a demand for specific types of electric-based items in the market, but only just a few companies are aimed at fulfilling those demands. As one such company, we, Innovosoft Technologies Pvt. Ltd., have been servicing the electrical sector with high-quality products as a manufacturer, supplier and exporter. We provide Bill Payment Kiosk, Retail Kiosks, Signage Kisok, Virtual Trial Room - eTRY Kiosk, Health Care Kiosk, Information Kiosk, Ticketing Kiosk, and more unique items at very reasonable rates to the customers. Since the beginning of our company in the year of 2016 we have made great progress in the market. We also maintain a good ethical code in our business dealings with them. Moreover, we also provide installation services but only after sales.
Mission
Our mission is to run a business that is clean, open, and lucrative for at least three groups of people including our clients, employees, and owners. In order to attain our mission, we follow a completely moralistic approach when treating all of our stakeholders.
Vision
The vision of our company is to become emerging technology pioneers and to provide next-generation products such as Health Care Kiosk, Bill Payment Kiosk, Ticketing Kiosk, Information Kiosk, Virtual Trial Room - eTRY Kiosk, etc., to this generation.
Goal
Our goal is to maintain our reputation as a company that can channel human resources and facilitate the development of the idea of every person into reality.
Why IST?
There are many factors which portray why one should choose our company over the others in the market, and some of them are as follows:
Leading- We believe in developing leaders rather than followers.
Winning- Winning is not everything, but the desire to win is, and it is what makes us stand out from the crowd.
Trusted- Trust is the lubricant that keeps us working and inventing new products such as Ticketing Kiosk, Virtual Trial Room - eTRY Kiosk, Health Care Kiosk, Information Kiosk, Bill Payment Kiosk and many others.
Innovation Breakthrough
March 2010- Abacus & Vedic Maths
August 2010- Zest Edu Tech
February 2011- Zest Robotcamp
September 2011- Zest Project & Support Centre
April 2012- Kiosk Manufacture
March 2013- Thamizh Samacheer & Kalvi Digitized
May 2013- Zest Digital Classroom
December 2014- Arogya Vidya Bharat
February 2015- Avb Sanitary Napkins
Our Progressive Plan
In the educational and manufacturing sectors, we have covered virtually every vertical. We charted our course and paved the route to success, allowing us to become who we are today. Following our previous achievements, our primary focus is on strengthening offshore export and offering superior quality products like Virtual Trial Room - eTRY Kiosk, Information Kiosk, Ticketing Kiosk, Bill Payment Kiosk, Health Care Kiosk, etc. Our business aims to develop consumer electrical items and waste management solutions in the next three years, broadening the Make In India concept. In 2019, our company established consortiums in Sri Lanka, Nepal, UAE, Qatar, Kenya, and Trinidad. Within the following several years, our company hopes to expand its reach to ten additional countries.
Our Values
Our values govern our interactions with business partners, community members, and one another. We have established a company where ideas may grow, people can thrive, and success can flourish because of our values.
Manufacturing
We support the Make in India initiative and produce all of our products like Information Kiosk, Bill Payment Kiosk, Virtual Trial Room - eTRY Kiosk, Health Care Kiosk, Ticketing Kiosk, etc., locally. In addition to our conventional range of touch screen kiosks, we are the ideal partner to take the unique design of customers and make it a reality. With production facilities in Coimbatore and Madhuri, we not only promote local jobs, but we also have complete control over timing and quality control, giving us a major edge over those producing overseas for any unique project.
Our History
Following are some of the major events of our history:
| | |
| --- | --- |
| Year | Event |
| 2010 | ZestEduTech was founded to serve as a link between education and technology. |
| 2011 | Introduction of first ever Android tab based e-learning for abacus, vedic mathematics and other extracurricular activities. |
| 2012 | Digital Zest abacus and vedic maths rolled out into franchising model and a total of 32 franchisees launched in the Kerala state. |
| 2013 | Offered Zest robo-camp to school kids with the purpose of strengthening and assisting students in skill development and enhancing electrical and mechanical understanding at a young age. |
| 2014 | The zest project support centre was formed to assist engineering students by offering a platform on which they could complete live projects. More than 200 kids benefited from the programme. |
| 2015 | Touchscreen kiosks, vending machines, and dry waste incinerators were our first manufactured products when we joined the manufacturing industry. |
| 2016 | InnovaSoft Technologies Pvt Ltd., was incorporated and the name ZestEduTech got dissolved into it. We also started assembling instructional tablets this year and put them in the market. |
| 2017 | We finished converting the Tamil state board curriculum into interactive, animated digital videos, which we then released in the market as smartkalvi educational tabs for students as well as Digital Classroom for schools. |
| 2018 | ArogyaVidya Bharat, our first CSR initiative, was launched. We encourage girls to maintain their hygiene through this initiative by providing them with sanitary items and suitable disposal choices. |
| 2019 | We began exporting our products by forming consortiums in Nepal, Sri Lanka, Bhutan, Kenya, and the United Arab Emirates. In addition, we established dealers and distributors in 18 states throughout the country. |
| 2020 | The World Business Confederation awarded our company The Bizz international business excellence award for sustained success and social initiatives. |
Our Quality Policy
We are dedicated to to deliver high-quality technical products including Bill Payment Kiosk, Ticketing Kiosk, Health Care Kiosk, Information Kiosk, etc., and solutions at a affordable prices. To achieve our aim, we make sure of the following:
Use performance evaluation and appraisal to hire and retain the best qualified, competent, and motivated workers.
Ensure that our customers receive high-quality products and services by using responsive Feedback Management.
Recognize the importance of implementing effective sales and marketing strategies using available technologies.
Project management efficiency is improved via excellent planning, coordination, implementation, and collection.
Include a worldwide standard-based integrated approach to business processes.
Establish a solid, mutually beneficial, and long-term relationship with our customers and suppliers
Build a safe and healthy working environment for employees by providing enough facilities and equipment.
Our Team
Given below is the list of our team:
| | | |
| --- | --- | --- |
| Name | Designation | Brief |
| Dr. Nitheesh N.R | Founder & CEO | He is a mechanical engineer and an inventor who plans and implements the entire growth strategy of the company. He also oversees R&D and new product development, and his innovations have already attracted international recognition. |
| Mr. Regi Thomas | Chief Operating Officer | He is a mechanical engineer with over 25 years of industry expertise who ensures the seamless operations of the company. He is an expert in designing and implementing company operations in a strategic and effective manner. |
| Mr. Shantanu Gosh | Chief Financial Officer | He is a chartered accountant who is in charge of the finances and compliances of the company. We can develop successful long-term business and financial plans thanks to his strong supervision and guidance. |

What We Offer
We have been offering the following:
Tailored Solutions- Our proactive, yet courteous, attitude is critical in providing customers with top-class products. We work with a variety of local businesses to provide customers with completely integrated solutions like Ticketing Kiosk, Information Kiosk, Bill Payment Kiosk, Health Care Kiosk and many others. We take the time to learn about the beliefs, objectives, and requirements of the customers in order to create solutions that will help them adapt to new business possibilities, meet their respective goals, and produce results for today and for the future.
Services Offered- Installation services are also provided by us, but only after the sale.
Research & Development
Our research and development department serves a critical role in introducing new technology to the life cycle of a products. To allow for better collaboration in development, we split our research & development wing from sales, production, and other departments. Our team is highly skilled and knowledgeable about the activities of the research and development department, and efficiently perform the following processes:
New Product Research- Our research and development department performs a thorough analysis to support the project before developing a new product. This research phase involves the determination of product specifications, manufacturing costs and a production schedule.
Existing Product Updates- Our department examines in-house goods on a regular basis to verify that they are still working. In some situations, our research and development department fixes a malfunctioning product or develops a new solution if the production method has to be changed.
New Product Development- The research phase prepares the groundwork for the development stage. This is when the new product is built based on the demands and ideas gathered during the research phase. The final product must adhere to the product guidelines as well as any compliance standards.
Innovation- Our R&D department assists us in remaining competitive in the industry. Our department has the ability to study and analyse the goods that other companies are developing, as well as new industry trends. This study assists the department in developing and upgrading our goods. Our team contributes to the future direction of the company by providing knowledge and developing products.
Quality Checks- Proper quality checks on goods developed by us are performed by our research and development team, which follows ISO 9001-2015 standards. This helps team members to check that the goods match all the standards and that we are providing high-quality goods.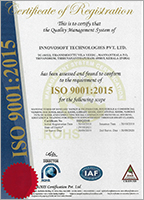 Read More